Well, it was one of those weird nights that I talk about once in a great while. I kind of knew Will Middlebrooks and Shane Victorino would both be rehabbing in Pawtucket tonight, but was verified of this at about 11:00 a.m. Unfortunately, I had a meeting at school, so I probably was going to miss this chance, but I kind of didn't mind anyway, because the meeting was really important, and Shane Victorino never, ever signs, even if there's a fire(sorry, Step Brothers reference). Also, I have met Middlebrooks countless times.
Regardless, my meeting finished, I texted my dad saying that those guys would be in Pawtucket, and he basically told me that he'd go. So on very short notice, I drove home, threw some baseballs in my bag, and drove over to McCoy. We got there maybe 3 minutes before first pitch, which if you know anything about me, is very, very different from my normal routine(I tend to show up AT LEAST 1.5 hours early).
So anyway, the game goes fairly quickly, Middlebrooks was pulled early, Victorino soon after. Slightly to my surprise, both players' vehicles were still in the caged lot(which is off limits). I had failed there before with John Lackey, and more recently David Ortiz, but the past is the past,and although whoever was going to stop would have to roll down their window, I thought at the very least I would get another Middlebrooks 'graph.
When Middlebrooks left, the crowd was probably 15 strong. He drove right by us. Everyone left at that point besides another guy, my father, and myself. I really didn't want to go home empty handed, so I ever so slightly contemplated just going around the corner to try for Munenori Kawasaki, but even though Shane is a really, really tough autograph, I just couldn't pass up a 2 on 1 opportunity.
When Shane exited the building, I called over to him, "Shane can you please sign? There are only two of us." At that point I had forgotten I had given my dad a baseball in case Middlebrooks had stopped. I received no answer from Shane, but when the gate opened, he stopped right in front of the 3 of us. At first he took the other guy's baseball, which was a team ball. The kid pointed out where he wanted Shane to sign it, but Shane said, "Okay now you're getting too picky. I'm sick of this shit. " He handed the kid back his ball unsigned. Quickly, I handed him my baseball, he asked me my name, and sweet spotted it. I was in shock that I had just met Shane Victorino. To my surprise, my dad jumped in right behind me and got a baseball signed as well. As I said, I had forgotten I had even given him the baseball, so it was really cool that I came out of the situation with 2.
After I met Shane, I went over to the visitors' exit, and within 2 minutes, I met Munenori Kawasaki, who is a very funny guy.
It's the nights like these that keep me going in this hobby, and sometimes the surprises bring the best memories.
Shane Victorino: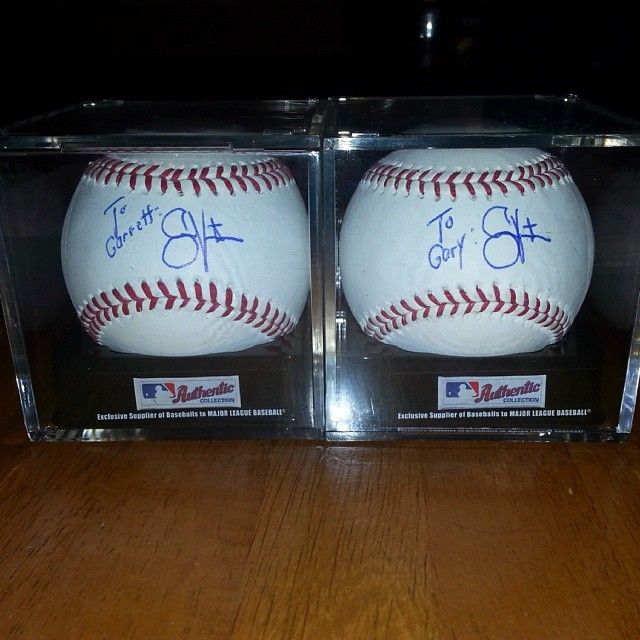 Munenori Kawasaki:
Total Autographs for 2014: 85