Last weekend was the weekend in which most MLB teams had their fanfests, and for the first year, the Red Sox held one not too far from me at Foxwoods Resort Casino in Connecticut.
Over the last few months, the Red Sox had a huge list of possible players named, "expected attendees" on their website. They purposely did not say how many players you would be able to meet, so I was expecting maybe 3-4, but even that turned out not to be the case. Luckily for me, I was able to catch a few guys and got them to sign when they were not in the autograph room.
The first person I met on the day was former Red Sox/ Broadcasting legend, Jerry Remy. Jerry was sitting near the NESN set, and was signing/taking photos with mostly anyone who wanted something.
My Dad and I both got a baseball signed, and I got a photo with him. I found it extremely curious that he sweet spotted for my Dad, and side paneled for me, especially since I handed the ball to him the correct way. Of course my Dad let me hear it, joking that he was the better 'grapher.
Nonetheless, I was happy to add another former Red Sox player to my collection, bringing my total to 132.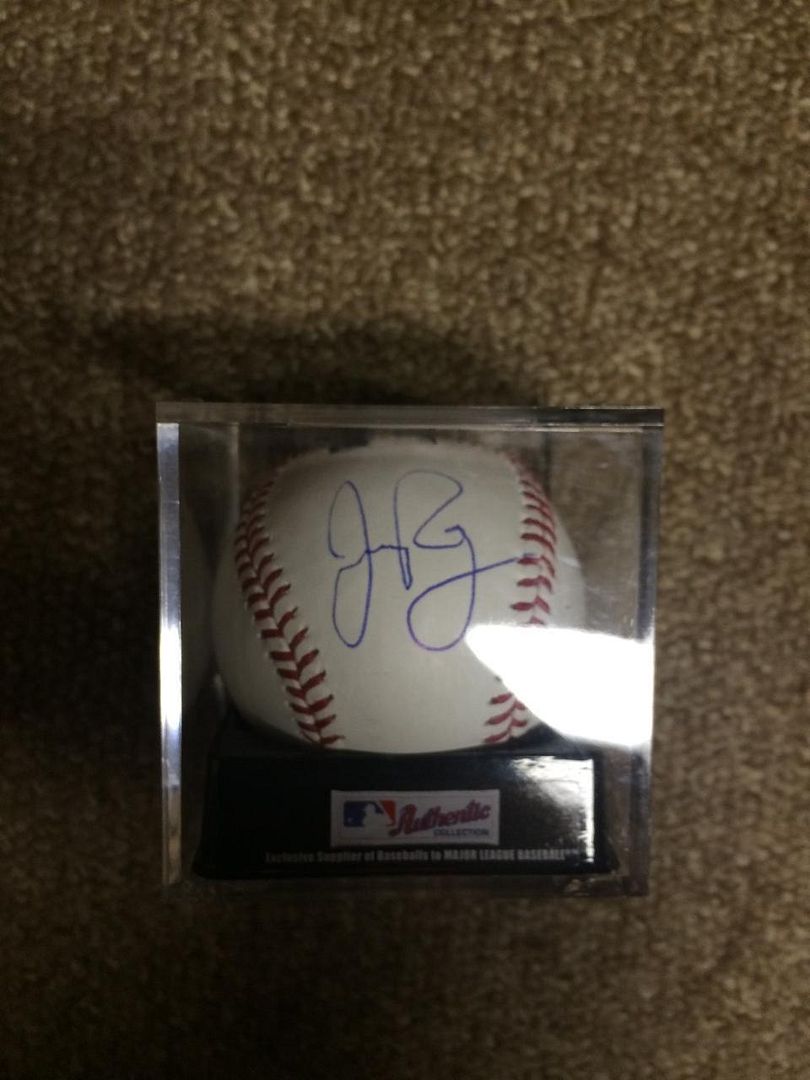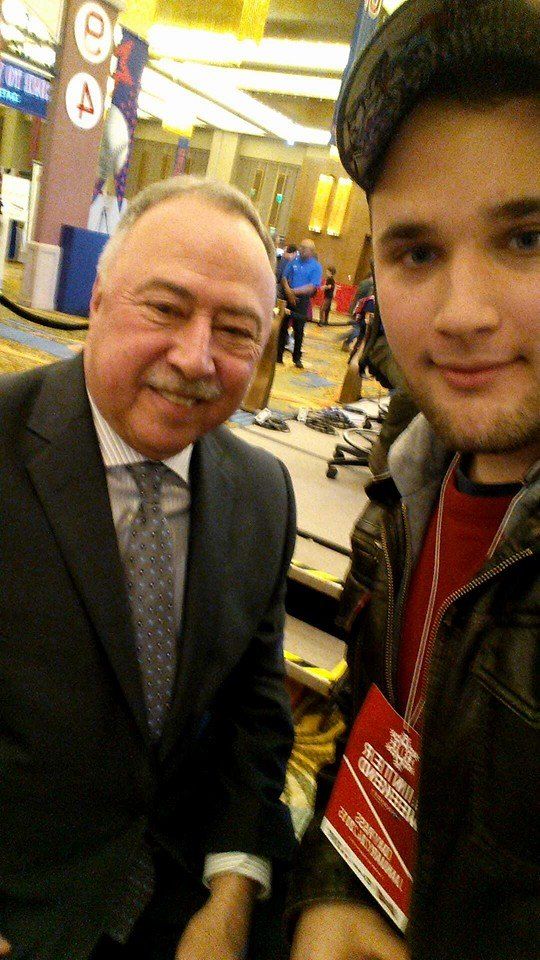 After meeting the RemDawg I noticed that Red Sox/Liverpool FC owner, John Henry was sitting nearby watching a ping pong tournament that was going on. Surprisingly, I had never met him and being a fan of both of his teams, I had to add him to my collection. He was very nice, and signed no problem: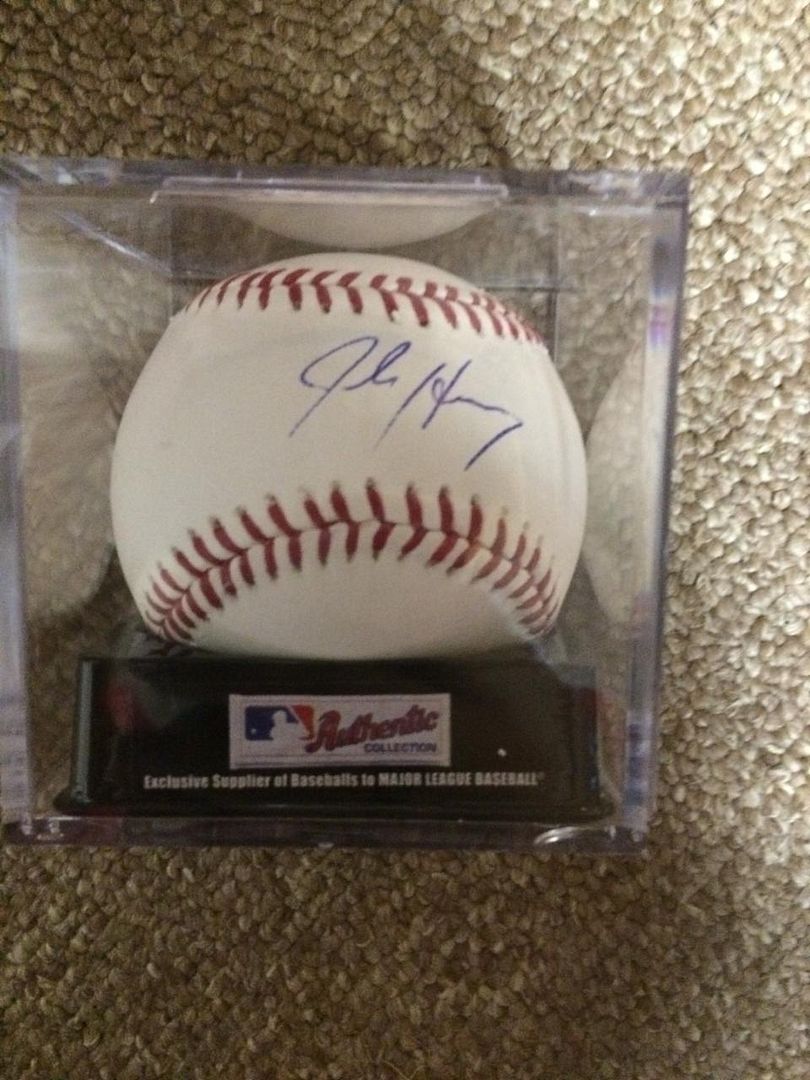 After we met him, I had a 1:00 autograph session so I went up to the ballroom that the autograph sessions were taking place in, and the line to get in at 12:00 was already INSANE. I'm talking hundreds of people already waiting to get into the 1:00 session.
The autograph session worked like this:
There were many different times(you picked one earlier in the week).
For each "Time" there were 4 separate lines of 1 player each, (2, if the players were of way less caliber).
There was also a "photo only" line, that the autograph line lead into after you get your autograph.
So when it was all said and done, if you didn't know what you were doing, the most you were guaranteed to get by attending Winter Weekend was 1 autograph and 1 photo. I should mention that this was NOT a free event, so unless you either A) Got really lucky with who your autograph session was, or B) Worked to get extra autographs, this event was NOT worth the money whatsoever. Luckily for me, I was able to do both case A and B, and ended up doing alright.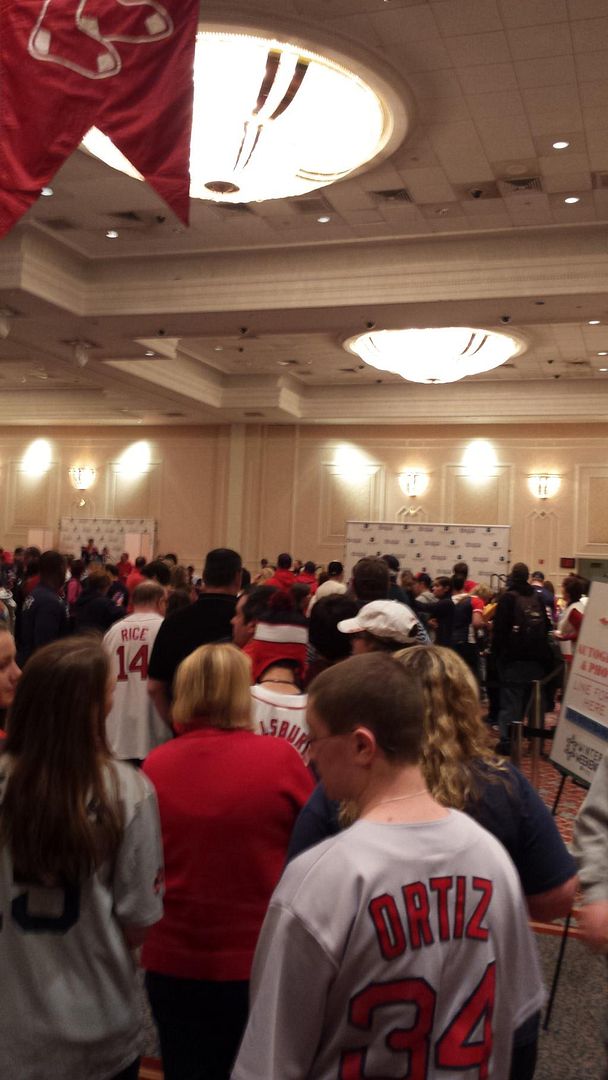 So back to the event... I walk in to the ballroom, and head to my assigned line. After about 3 or 4 minutes I sighed in relief as I saw that the legendary Carlton Fisk was who I drew to get an autograph from. I was extremely lucky, because the line next to me was for 2 relatively unknown players to the casual fan. Dustin Pedroia was also signing during this session, but I had already met him albeit 9 years ago now!
Carlton was really nice, but wouldn't add the "Hall of Fame 2000" inscription. I figured he wouldn't, because there were A LOT of people, but I was happy regardless.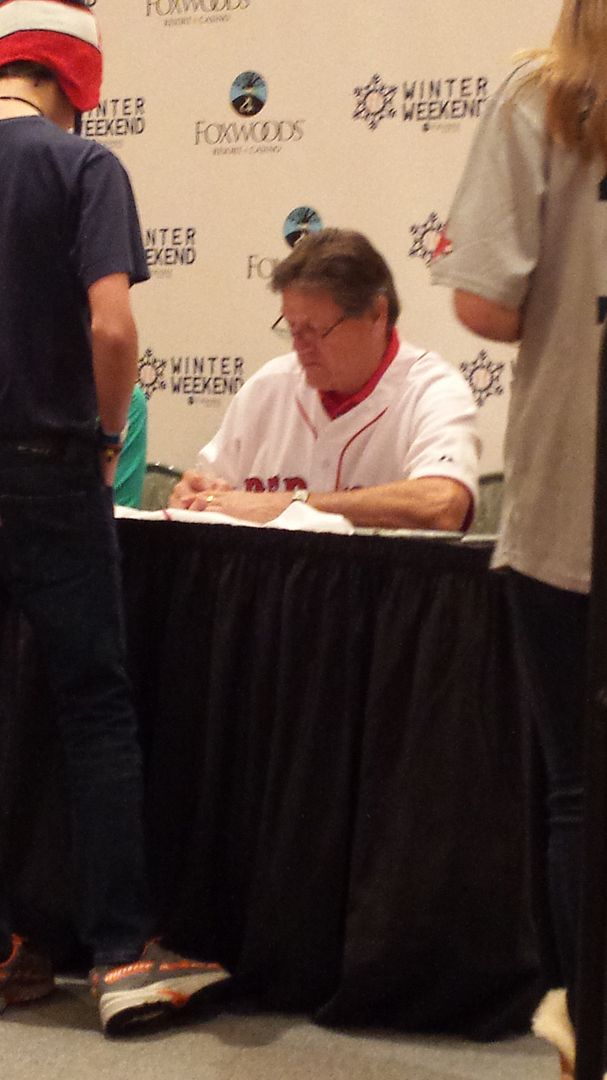 It's not every day that I can add an autograph as nice as this to my collection::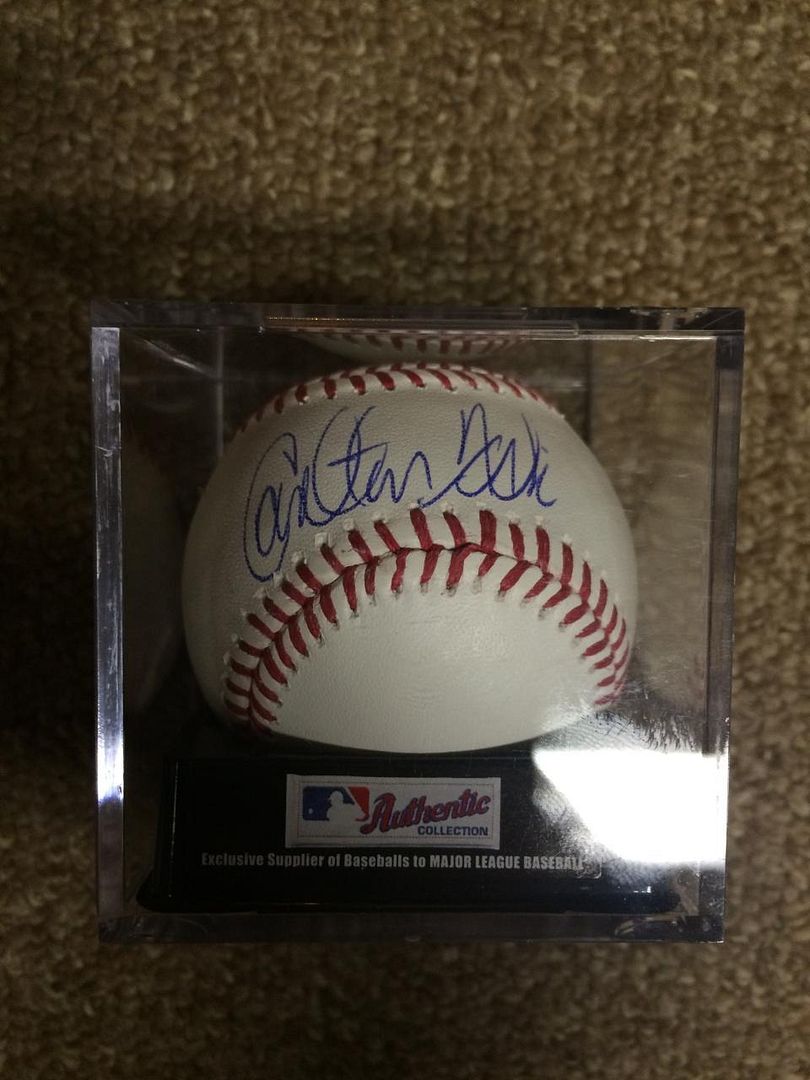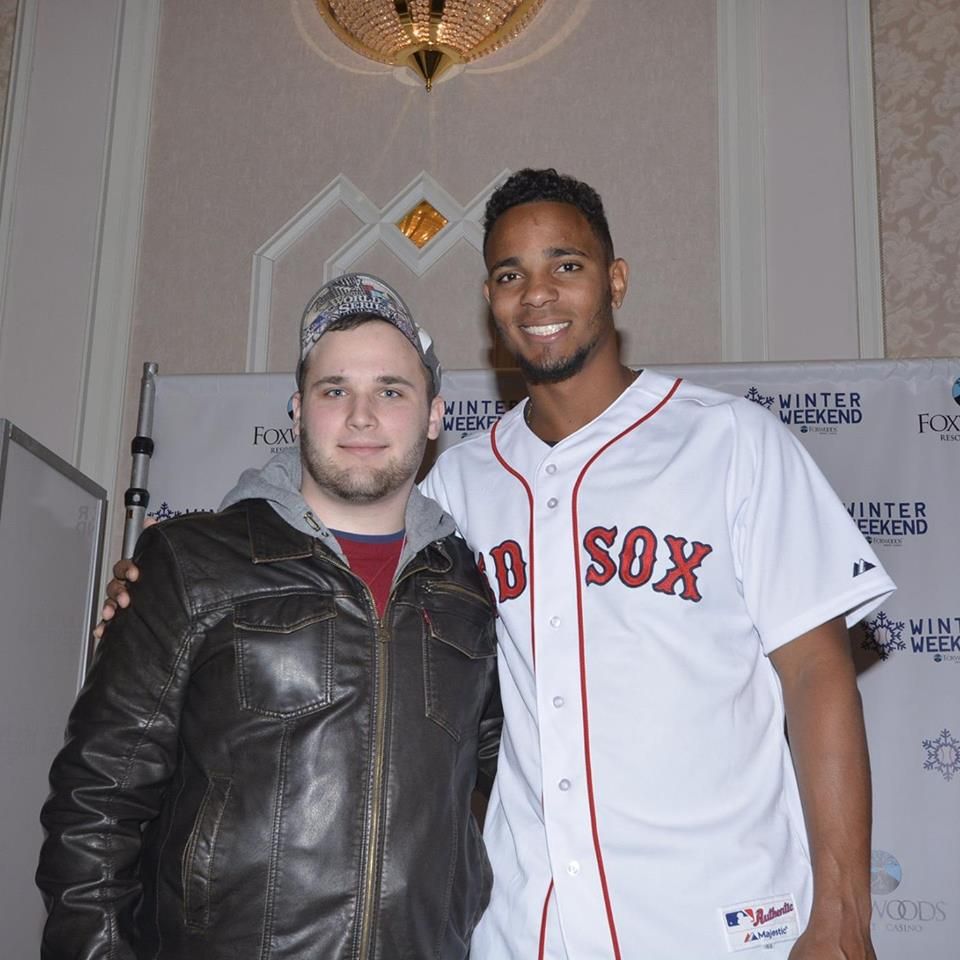 As I said earlier, after you got your autograph, you had to option to enter the "photo only" line. The player that was in my photo line was Xander Bogaerts, and even though I had met him probably a dozen times in the past, I had never gotten a picture with him so I decided it was worth the wait.
By the time I was done, it was time for my Dad's autograph/photo session. Unfortunately, he didn't draw as good of an autograph as me, but his photo draw was better. He drew newcomer, Wade Miley for his autograph, and Fred Lynn as his photo. I was happy that he at least got to meet one guy he used to watch a lot.
With that said, this is where the event was poorly planned, and many folks didn't get their money's worth. I got super lucky with my draw, but my Dad got a terrible autograph draw, and a good photo draw. I guess you could say for the casual fan, this would be fine, but for people/'graphers who come to expect a bit more, they left disappointed. I personally got my money's worth, but had to really work for it, and have some luck on my side.
Here is the Wade Miley autograph: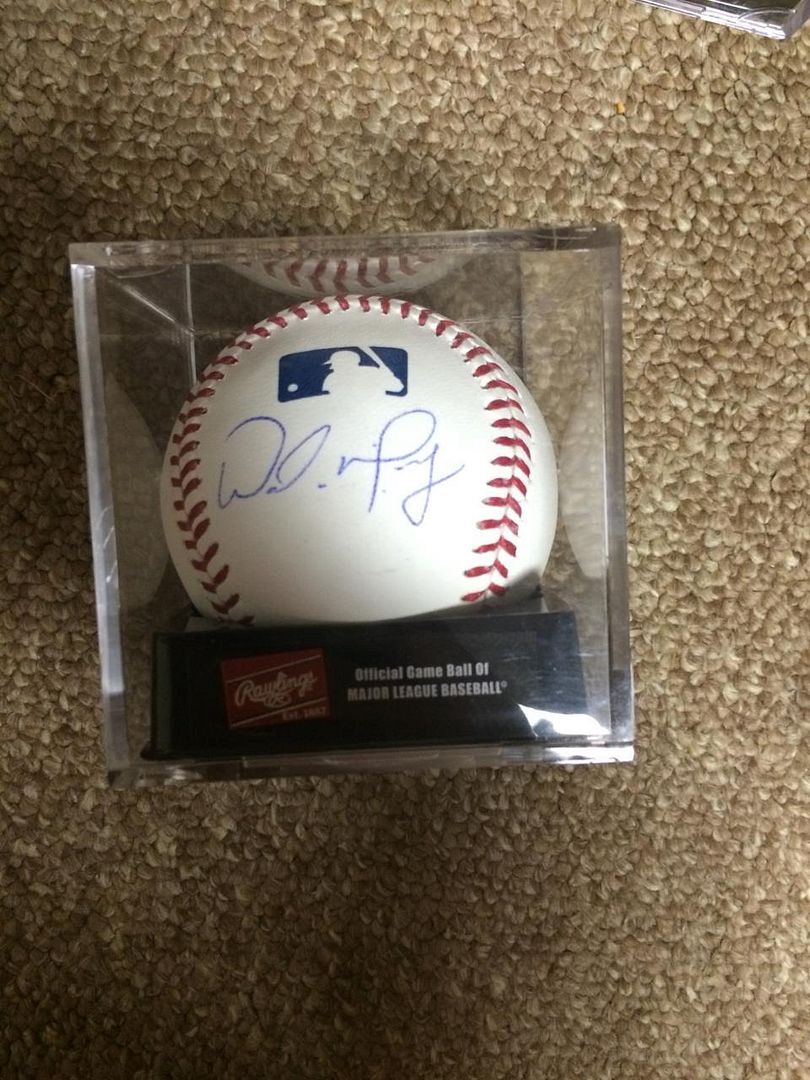 After he got out of his session, we went back down to the main area where we had met Jerry Remy and John Henry earlier, to see if anybody else was hanging out.
Allen Craig would not sign coming off of the NESN set, but I was able to get Tommy Layne, who made his Red Sox debut last year. I had failed to meet him in Pawtucket before his call up last season, so I was actually pretty happy about meeting him: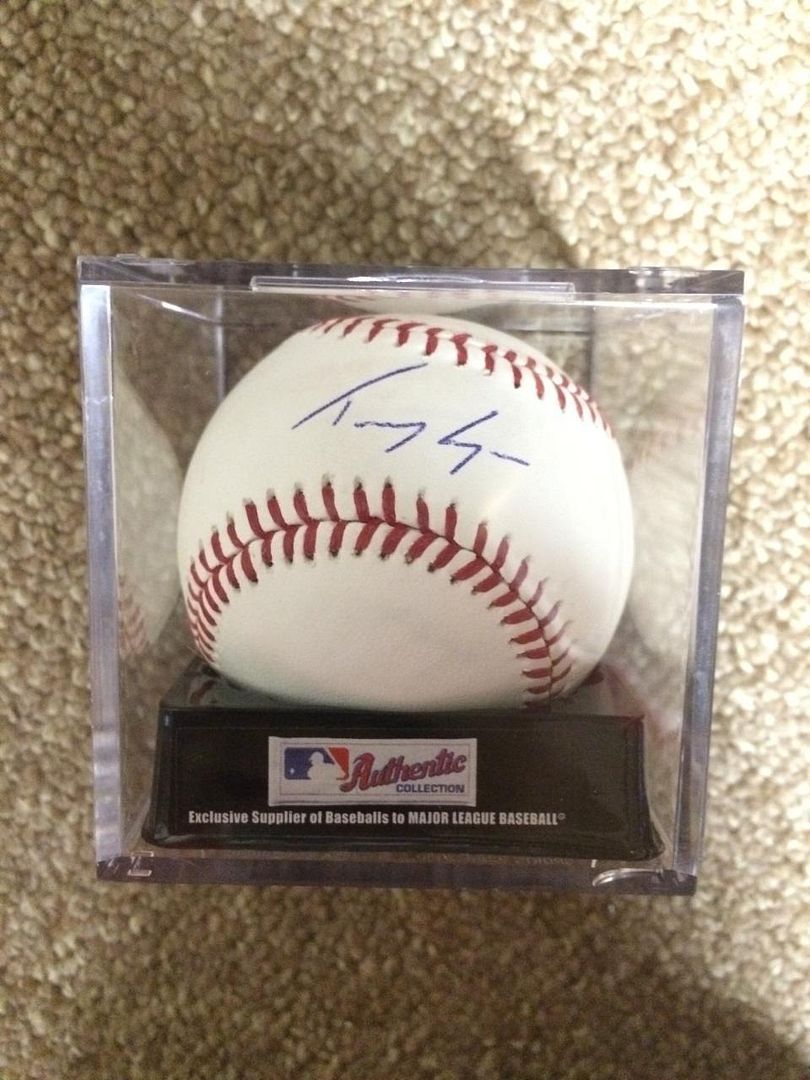 After that, I was pretty exhausted so we decided to leave. I was walking through the casino towards the exit, when all of a sudden I saw Xander Bogaerts, Mookie Betts, and a few others walking around. I had to choose, because they were walking somewhere fast and Xander was the best player, so I went with him. I was the only one asking him/that noticed them, so he signed for me and gave me a better autograph than I have ever seen him give. I had to keep pace with him, but he made it worth it.
That was a nice ending to my day, and the event overall.
One more thing worth mentioning before someone asks is that the players WOULD NOT sign after their talks or even walking through the event. I think they were strictly told not to. I got Xander Bogaerts because he was walking through the casino, not through the event space.